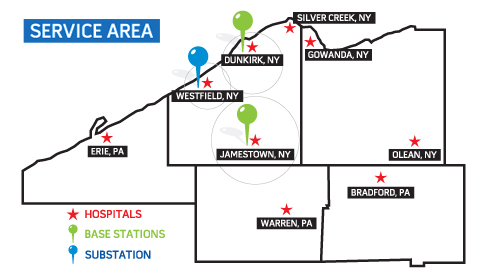 Here at ALSTAR EMS we strive to provide comprehensive emergency response and medical intervention to the people of our communities. We recognize the need for a rapid response to those who require our services, while at all times maintaining our high quality standards to preserve the sanctity and dignity of human life.
ALSTAR EMS provides pre-hospital EMS support, both urgent and non-urgent, as agreed to for the Cities of Jamestown, Dunkirk and Fredonia, and support as requested, from neighboring communities.
Data has shown an increase in overall transports from 2013 to 2014. All of which fall under the Basic Life Support (BLS), Advanced Life Support (ALS) and assists criteria. The ALS calls made in 2014 increased over 16% and the BLS calls made in 2014 increased about 1%.